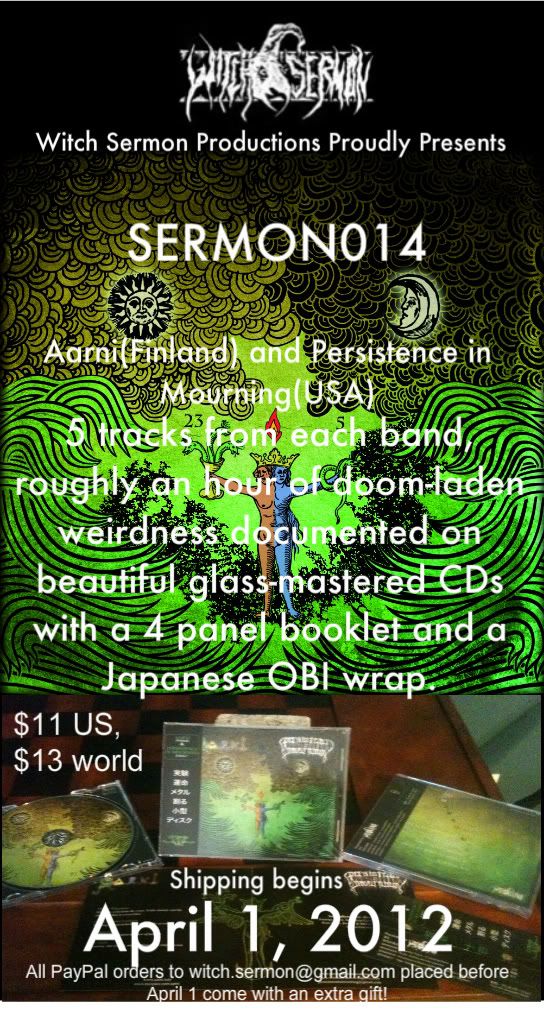 halloween marks the launch of witch sermon. a small, underground label dealing mostly in cassettes for now. we will only be doing a few releases a year, quality of quantity and all that. we need to make it very clear from the beginning that we can not and will not run a distro. with a small baby at home, the releases we do take up all of the time and money we have to invest in this. therefore, no trades. sorry, but that is just the way it has to be right now. we prefer paypal but will accept other forms of payment. wholesale is of course available. price disounted for labels/individuals buying anywhere from 3-10 copies and even bigger disounts for 11 or more. Our site is set up at
www.witchsermon.wordpress.com
, and our contact is witch.sermon(at)gmail(dot)com
my wife will probably be dealing with that account more than myself so any orders through there please keep light on the info. all we need is the payment, your order and your address. any special requests/questions can be directed to me via pm as well. we have our first two tapes available starting today.
SERMON001 - MOSS - NEVER SAY LIVE (LIVE IN SOHO)
to commemorate the tour they just started with electric wizard, moss is selling these live tapes on the road. There are two versions of the tape, theirs being a tour only item and mine being a mail order item.
each comes with an insert.
In April 2010 Moss played two rare shows celebrating 10 years together – one at London's The Borderline and the other at Holland's Roadburn Festival. And now to celebrate Samhain, Witch Sermon in co-operation Buried & Forgotten Productions proudly present here Moss' first full live document with this recording of their crushing show at The Borderline. Featuring four brain-frying tracks of monolithic horror metal and salvaged from crude recorded materials, "Never Say Live: Live In Soho" is one hour of pure Moss, at their rawest and most stripped down. Includes new track 'The Adept', written especially for this occasion.
i mastered this tape myself and spent a pretty obscene amount of time on it. I worked closely with olly throughout and feel we have captured their live experience as close as possible. mastered from a minidisc that was recorded from the crowd, the masters turned out loud and nasty, but maintains the clarity as well. very proud of this release, it turned out really great. These are upgraded to chrome tapes rather than ferric for the most accurate and clear sound as is possible with a live recording. the tape is just under an hour long.
$9 ppd US
$10 canada/mexico
and $12 ROW
the price reflects the amount of time that went into these, the master alone took upwards of 30 hours when all was said and done.
SERMON002-ZZ-I, GORGON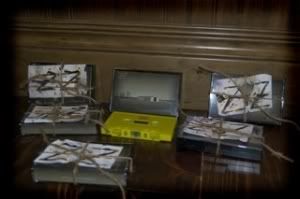 Harsh Drone from half of gorgontongue. A nightmare of tape loops, minimalist guitars/drones, and violent noise. each comes with a hand painted, burned and stained canvas. each one is unique. it times in at about 40 minutes.
$5 ppd US
$6 for canada/mexico
$8 ROW
and of course wholesale is available on these as well.
i am not interested in EVER releasing a "collectors item". in fact the zz tape includes an artists note that reflects our disgust with that sort of behavior. any release that has more demand than supply will be re-pressed based upon the artists wishes in order to keep them in print and NOT to see one on ebay for stupid prices. That being said the moss tape won't be ever re-pressed i don't think, that would be up to the band. There are 200 of the label/mail order versions available. but again, especially on releases of my music, if the demand is there more will be made.
we have several exciting stuff on teh horizon as well. next two confirmed releases are
secrets she kept - la fin absolue du monde cassetee.
that one was mastered by the great james murphy
and a gorgontongue 7" that is still unnamed. several other things for later in 2011, i will keep this thread updated as new stuff is confirmed. thanks a lot, and a MASSIVE thanks to olly and moss. They were wonderful to work with.